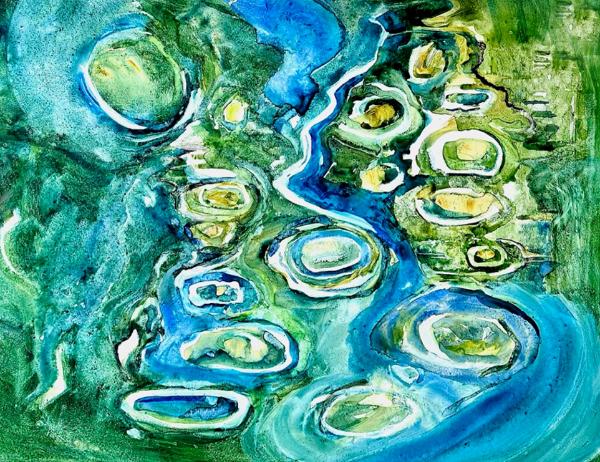 YouTube recording of my demonstration for the California Watercolor Association
Watercolor on Yupo
"Reflections"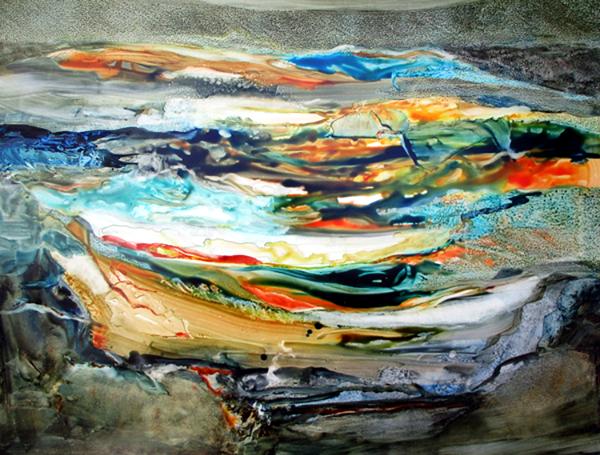 Juanita Hagberg - Featured Artist for the California Watercolor Association
I will be demonstrating the use of watercolors on Yupo paper. You are welcome to join the meeting on Zoom, October 18, 2023, 7:00 - 9:00. Please use the Link provided.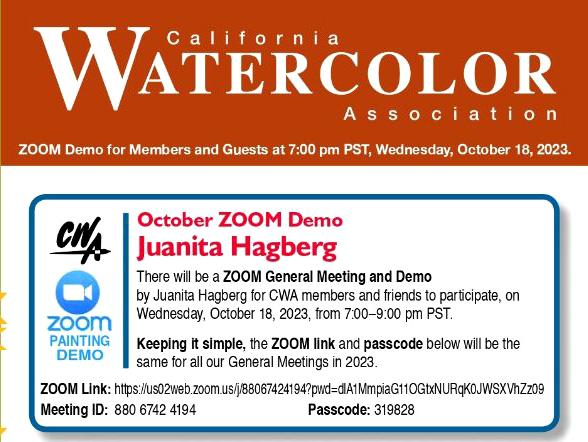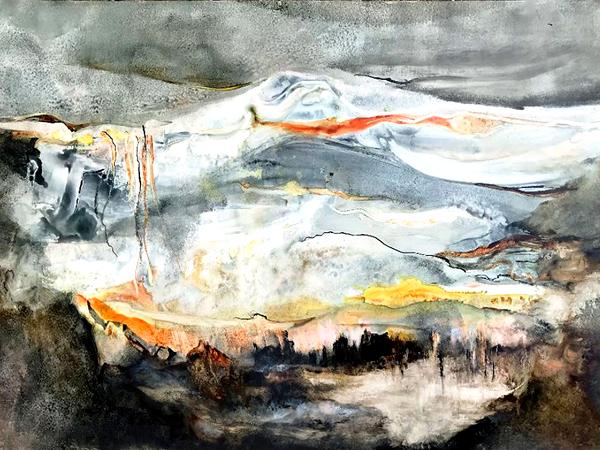 "Pinnacle" (watercolor on Yupo, 26 x 40") was selected for the online exhibition, "Women Artists Making Their Mark" The international show from the O'Hanlon Arts Center in Mill Valley, CA, was juried by prestigious gallerists, Donna Seager and Suzanne Gray of Seager-Gray Gallery in Mill Valley.
August 22 - October 3, 2023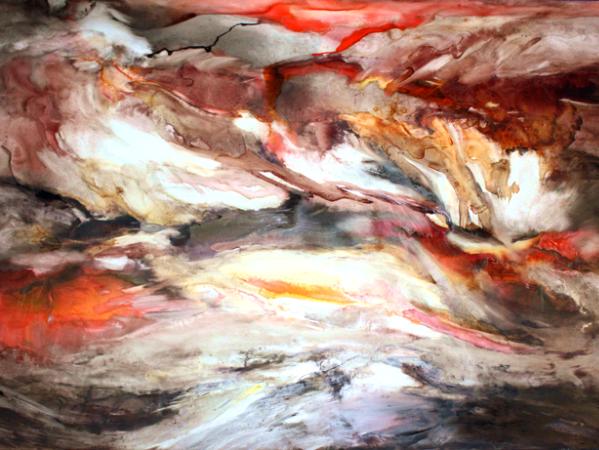 I am excited to teach a workshop for:
California Watercolor Association
Juanita Hagberg – Painting Abstractly Using Watercolors on Yupo
November 1-3, 2023 (3 Days), 9 AM – 4 PM PST


*Recording of the entire workshop will be available for 30 days
Advanced Beginner to Advanced
Each day, there will be demonstrations, discussion, painting time, personal feedback, and critique. If you want to take your painting in a more abstract direction, Yupo is worth trying. Working on it allows you to experiment and take chances in your art journey. We will go beyond painting what we see, to expressing more personal responses to a subject or idea. There will be new ideas to inspire you, and plenty of opportunity to be more spontaneous and creative. You will also see how using composition and design strengthens your work. Whether you're an advanced beginner, have been painting watercolors a long time, or feel "stuck," this workshop will get you thinking about expanding your possibilities as an artist
Recording Available: Yes
Registration Fees: Non-Members $255, Members $195
Workshop Location
Danville Ranch House
895 Ridgeland Circle
Danville, CA 94526
Contact Workshops Team
for more information and to register and pay online: www.registrar@californiawatercolor.org.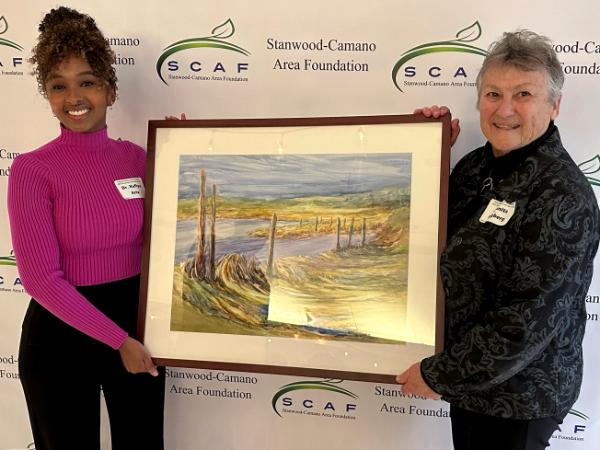 I was pleased to present my painting, "English Boom Memory," to Dr. Khafiya Arte, M.D. She is the recipient of the Stanwood Camano Area Foundation "Philanthropist of the Year" award. SCAF hosted a wonderful breakfast on Camano Island, WA, honoring local philanthropists and volunteers.
Dr. Arte is a first-generation Somali American and Internal Medicine resident physician from Marysville, WA. Growing up in a refugee family in the US, socioeconomic issues led to adverse health outcomes in her family, a familiar plight for low-income families everywhere. This adversity inspired her commitment to bettering community health outcomes through patient-centered primary care.
Fueled by a dedication to volunteerism and the art of helping, she helped found The Fieldhouse Project, a nonprofit organization based in Ghana, West Africa that aims to promote community development through education, woman empowerment, sports, and mentorship. She also founded a branch of COVIDsitters, a national ad hoc volunteer organization made of medical students eager to assist fellow healthcare workers during the height of the COVID-19 pandemic.
Dr. Arte can frequently be found volunteering, whether at community health clinics, vaccine drives for houseless populations, tutoring and mentoring students of all backgrounds, educating the public about common health conditions in person and via podcast, and many other projects. Dr. Arte firmly believes that the core of community health is community engagement, and at the core of community engagement is volunteerism.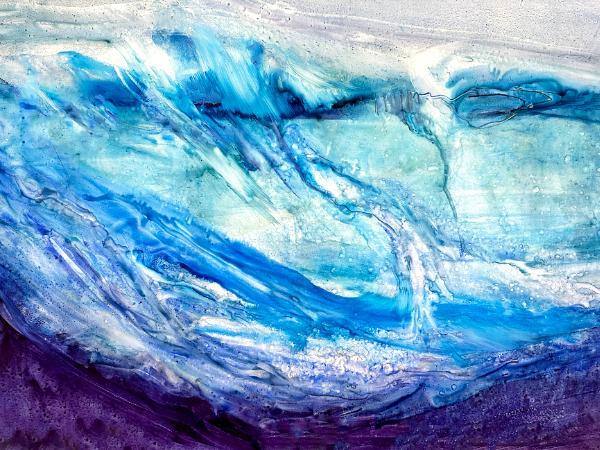 "New Wave VI" watercolor on Yupo was selected to be in the 11th edition of
FRESH WORKS
HARRINGTON GALLERY
FIREHOUSE ARTS CENTER
4444 Railroad Ave., Pleasanton, CA
JUNE 1 - JUNE 10, 2023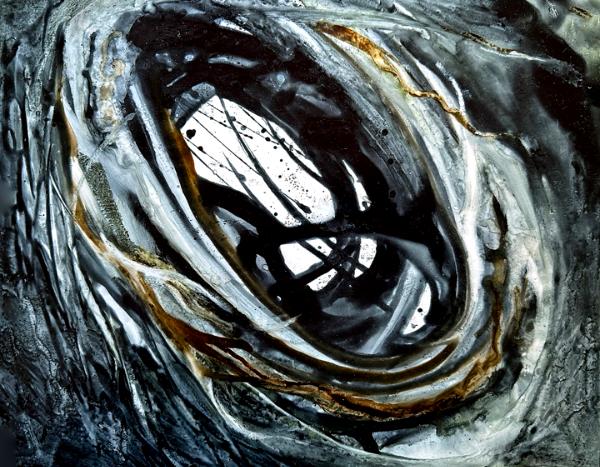 "Synergy II" watercolor "16 x 20"
VALLEY ART GALLERY
1661 Botelho Ave.
Walnut Creek, CA
valleyartgallery.org
Featuring over 250 new artworks to rent or purchase, including my
watercolor on Yupo, "Synergy II."
JUANITA HAGBERG
CALIFORNIA WATERCOLOR ASSOCIATION FEATURED ARTIST/DEMO
CWA May General Meeting
Our demonstration artist for the May meeting is
Juanita Hagberg.
Juanita will be painting abstractly, demonstrating various techniques using Yupo paper.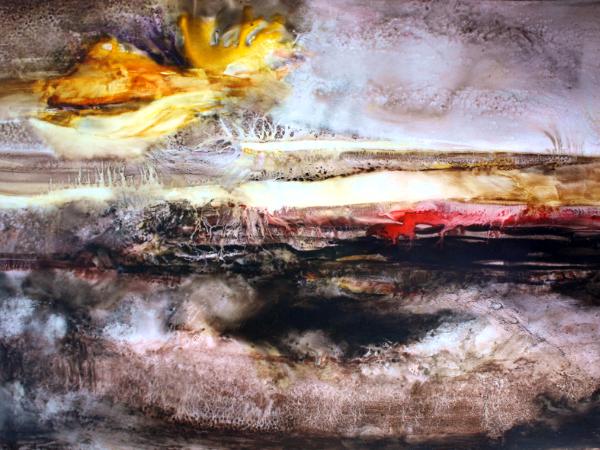 THE de YOUNG OPEN
de Young Museum, San Francisco, CA
I am very honored to have my watercolor painting, "Light on the Past" selected for "The de Young Open," de Young Museum, San Francisco, CA. The dates are October 10, 2020 - January 31, 2021. Less than 8% of submissions made it into the final exhibit. More than 11,500 entries were submitted from S.F. Bay Area artists.
deyoungopenexhibition@famsf.org.web.gallery